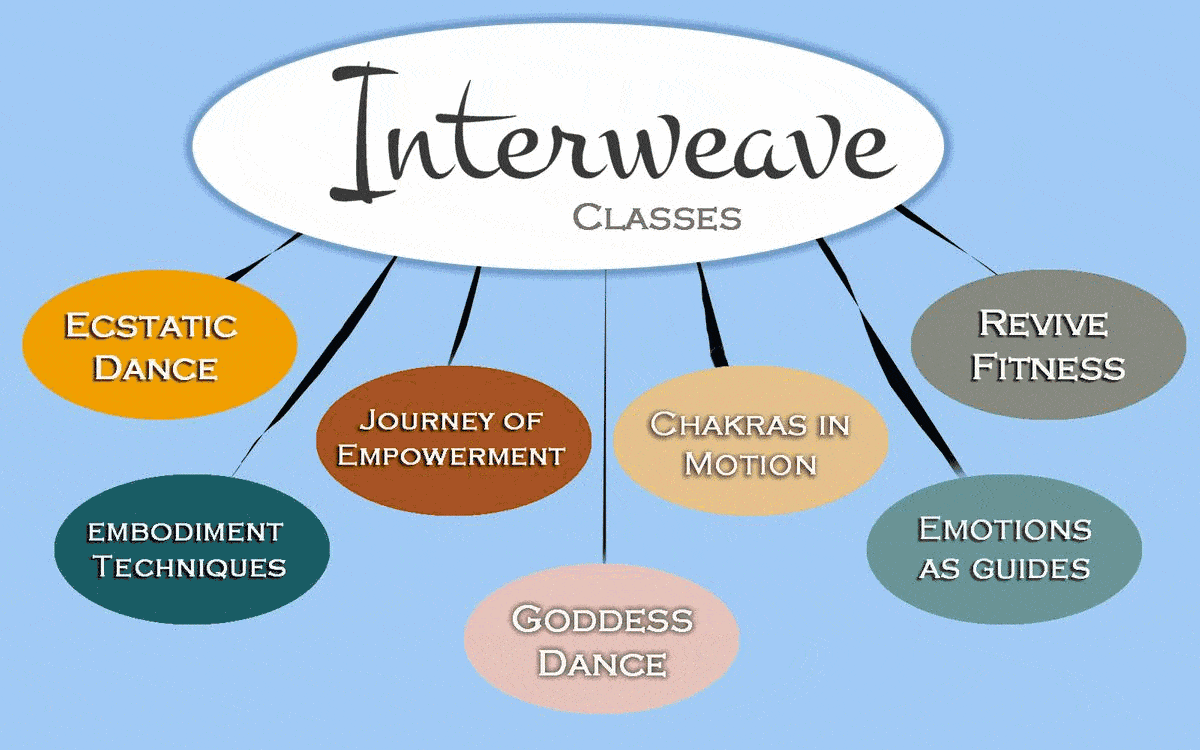 No Results Found
The page you requested could not be found. Try refining your search, or use the navigation above to locate the post.
Katie Wells holds a safe space while skillfully weaving multiple modalities opening the body as a vessel for presence, self-growth, and meaning. Student diversity is supported for a rich community setting as all people and movement levels are encouraged. There are two requirements to join an Interweave class. The first is the desire for a better life- to live in more harmony with ourselves and with the world. The second is a willingness to see our imbalances and take steps forward in repatterning what no longer serves us.
Mindful Embodiment– Through experiential practices and discourse, this six-week series explores a wide range of topics from the embodied state including: presence, sensation, breath, grounding, centering, emotion, physical pain and tension, posture, intuition, disembodiment, dual awareness, flight/freeze/flight, self-compassion, and empathy. The practices are experienced sitting, standing, lying, and moving, offering tools for repatterning what no longer serves us as well as an expansion into a fuller experience of life.
Live Zoom Course coming in September 2021, and prerecorded course will follow.
The link register will be available soon, or contact Interweave to book a workshop.
Ecstatic Dance – Designed for all ages and movement levels, Katie's facilitation guides movers into a freeing experience to be themselves. Being a professional dance improvisor and embodiment teacher, Katie skillfully uses a range of tools for consciously arriving in the body and the personal, inspiring new ways of self-expression, and an opening to collective and transpersonal joy. This journey reclaims our primal and spiritual rite to dance as we open doorways to ourselves and beyond!
Physical Theatre and Creation of Conscious Dance Theatre– Students will learn to tell meaningful stories through movement, create spoken text, develop characters, and exaggerate theatrical physicality. This class is appropriate for both actors and dancers as well as anyone interested in self-discovery through expression. Longer workshops and residencies become more personal, deepening into the poetics of the soul as participants create alongside of Katie in a performance culmination of Conscious Dance Theatre. CDT is a form that mixes dance, theatre, improv, and audience participation to inspire self-reflection in both performer and audience.
The bookings available are
a workshop
Katie's solo performance of Conscious Dance Theatre, "Love Letters to Humanity"
a performance piece set on students
Revive Fitness – uniquely blending…
FUN DANCE CARDIO burns calories to increase coordination, cardiovascular and cognitive function, and adds to your dance repertoire.
STRENGTH TRAINING to sculpt the body and build muscle power and stamina.
YOGA for flexibility, mindfulness and relaxation.
All in 1 hour.
This is presently offered once a week through Zoom. 
Goddess Dance This course is based in embodied archetypes to open all facets of ourselves. Each class journeys into a specific goddess through visualizations, yoga, intentional freestyle dance, and partner activities.  We begin on the mat deeply sensing the body and establishing the essence of a goddess archetype. Then work off the mat practicing new and fuller relationships with each other and the world. This class empowers latent aspects of ourselves for more choice in identity and behaviors and taps into our inner divinity.
Chakras in Motion Each class journeys into one chakra through visualizations, yoga, intentional freestyle dance, and partner activities.  Every song and exercise are designed to create a full experience of the chakra while exploring its element, its purpose, its imbalances, and its embodiment. Deeply sensing the body, we begin on the mat to establish the essence of the chakra. We then work off the mat enhancing our relationship with the world in partners and collective union. This course instills embodied presence, inspiring self-reflection and a life in balance.
Journey of Empowerment
This course is designed for teens and young adults. It is crucial that we offer our youth tools to navigate these hard times. Embodied awareness paired with practical social/emotional tools boost students' ability to manage stress, make healthier choices, effectively communicate, and find more harmony within themselves. Inner and outer attunement is developed through emotional intelligence, mindfulness, self-compassion, body awareness, journaling, and games. This is both a personal and a collective journey- experiencing a belonging to ourselves and a belonging with the group as we foster an environment of nondiscrimination and purposeful inclusion where all people feel safe and valued.
This is presently a university course and can also be offered as a workshop and retreat. Contact us to discuss the possibilities!
Bring a workshop to your studio!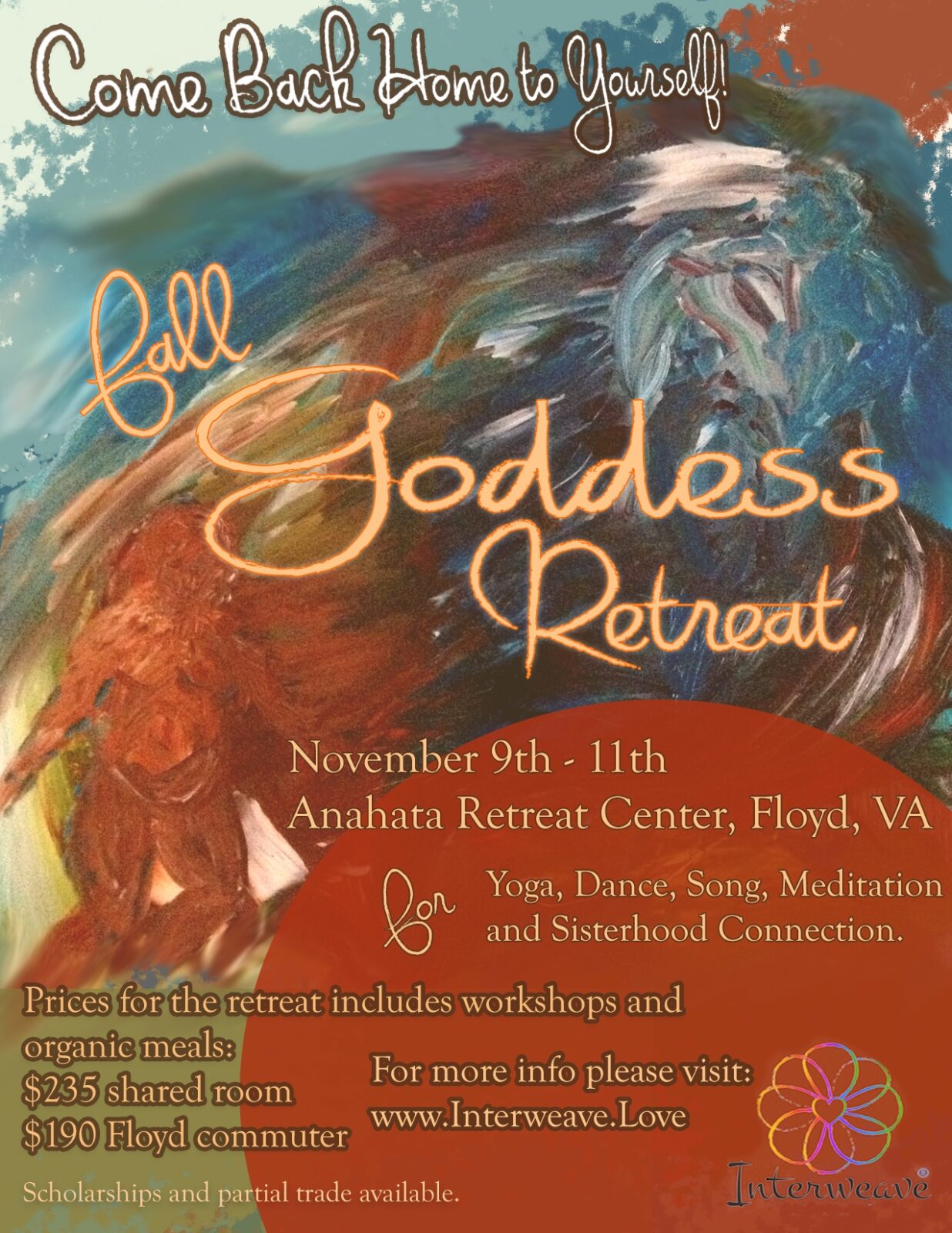 Goddess Retreat November, 9-11 Anahata Retreat Center, Floyd, VA Goddess Retreat is an offering with the hope to unite women for an experience of rich embodiment, creative self-discovery, restoration, and connection. Nourish yourself before the holidays. We...