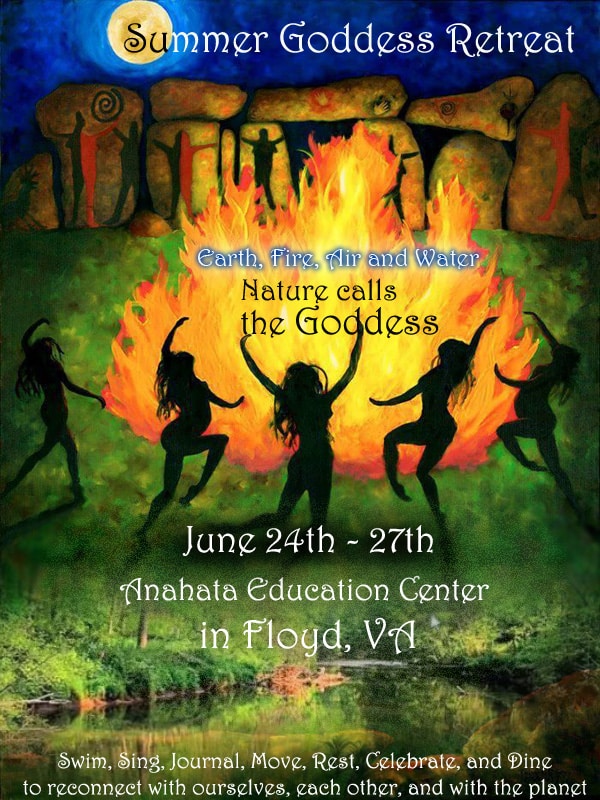 The Summer Goddess Retreat will uphold a covid protocol. We will mostly gather outside.
There will be two different colored bracelets, one for those who wish to stay 6 feet apart, and another for those who wish to be closer in proximity. Masks are welcome.
Several women will facilitate practices through various mediums, and like always the authentic wisdom of the group is valued. Spaciousness for personal downtime will also be integrated.
Check out the beautiful facility
Ticket price includes program fee, food, and lodging – 3 Nights
Cancelation will be granted until two weeks prior to the event with a $30 cancelation fee.
Private bedroom with private bathroom $580
Thursday, June 24th, Arrive btw 2:00 pm – 3:30 pm 
through Sunday, June 27th at 1:00 pm
Immersed in the Appalachian Mountains of Virginia, "Nature Calls the Goddess" holds EXPERIENCES that open our intuition to the wisdom and aliveness of the elements. ⁣ ⁣
We nourish and awaken our lives through the senses, deep embodiment, symbolism, and prayer. ⁣
⁣
We grow in natural sensuality, experience interconnectedness, process the destruction of our planet, and play together in the celebration of love.⁣ ⁣

"𝘛𝘩𝘪𝘴 𝘳𝘦𝘵𝘳𝘦𝘢𝘵 𝘤𝘳𝘦𝘢𝘵𝘦𝘥 𝘢 𝘯𝘶𝘳𝘵𝘶𝘳𝘪𝘯𝘨 𝘦𝘯𝘷𝘪𝘳𝘰𝘯𝘮𝘦𝘯𝘵 𝘵𝘩𝘢𝘵 𝘰𝘧𝘧𝘦𝘳𝘦𝘥 𝘵𝘩𝘦 𝘰𝘱𝘱𝘰𝘳𝘵𝘶𝘯𝘪𝘵𝘺 𝘧𝘰𝘳 𝘥𝘦𝘦𝘱 𝘪𝘯𝘵𝘦𝘳𝘯𝘢𝘭 𝘶𝘯𝘧𝘰𝘭𝘥𝘪𝘯𝘨 𝘧𝘳𝘰𝘮 𝘸𝘪𝘵𝘩𝘪𝘯 𝘸𝘪𝘵𝘩 𝘵𝘩𝘦 𝘴𝘶𝘱𝘱𝘰𝘳𝘵 𝘰𝘧 𝘥𝘪𝘷𝘪𝘯𝘦 𝘴𝘪𝘴𝘵𝘦𝘳𝘩𝘰𝘰𝘥 𝘢𝘯𝘥 𝘸𝘪𝘭𝘥𝘦𝘳𝘯𝘦𝘴𝘴. 𝘛𝘩𝘪𝘴 𝘸𝘢𝘴 𝘶𝘯𝘭𝘪𝘬𝘦 𝘢𝘯𝘺𝘵𝘩𝘪𝘯𝘨 𝘐'𝘷𝘦 𝘦𝘷𝘦𝘳 𝘦𝘹𝘱𝘦𝘳𝘪𝘦𝘯𝘤𝘦𝘥 𝘪𝘯 𝘢 𝘳𝘦𝘵𝘳𝘦𝘢𝘵 𝘣𝘦𝘧𝘰𝘳𝘦 – 𝘵𝘳𝘶𝘭𝘺 𝘵𝘳𝘢𝘯𝘴𝘧𝘰𝘳𝘮𝘢𝘵𝘪𝘷𝘦." – 𝘈𝘯𝘨𝘦𝘭𝘢 𝘔𝘤𝘎𝘰𝘭𝘥𝘳𝘪𝘤𝘬, 𝘓𝘪𝘤𝘦𝘯𝘴𝘦𝘥 𝘊𝘰𝘶𝘯𝘴𝘦𝘭𝘰𝘳 𝘢𝘯𝘥 𝘋𝘪𝘳𝘦𝘤𝘵𝘰𝘳 𝘰𝘧 𝘓𝘪𝘧𝘦 𝘪𝘯 𝘉𝘢𝘭𝘢𝘯𝘤𝘦⁣ ⁣
This is one of the most inexpensive retreats there is, providing artists, healers, teachers, lower-income, and more, a chance to replenish. We welcome female-identified people of all colors and faiths who seek connection and growth. ⁣
Be Replenished by Water⁣ ⁣
Stabilized by Earth⁣ ⁣
Inspired by Air and⁣ ⁣
Transformed by Fire⁣